What is the RoadMap to become a Successful DevOps Engineer?
Who is DevOps Engineer?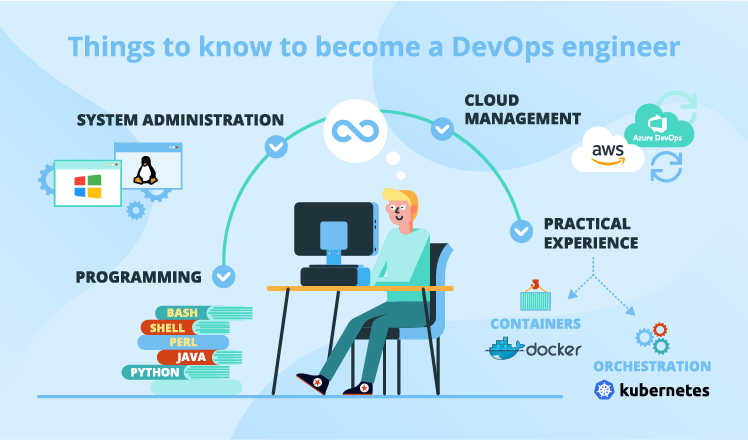 A DevOps engineer is the one who keeps the knowledge of both development and operations, including coding, infrastructure management, system administration, and DevOps toolchains.
In other words, A DevOps Engineer is an IT professional who collaborates with developers, and the operation team with having a thorough knowledge of various automation tools for developing digital pipelines and managing the deployment and other processes.
One of the most basic and crucial skills to become a DevOps Engineer is knowing programming languages, whether it is the job of debugging or integrating database changes.
The job of DevOps Engineer is increasing day by day. It comes in 2nd position over top 50 in America and India, its demand is increasing day by day as well.
A DevOps engineer works with development teams to tackle the compulsory coding and scripting to connect many different application parts like, APIs, libraries, and software development kits (SDKs), and integrate other parts like, SQL data management or messaging tools that DevOps teams need to run the software release on OSes and production infrastructure.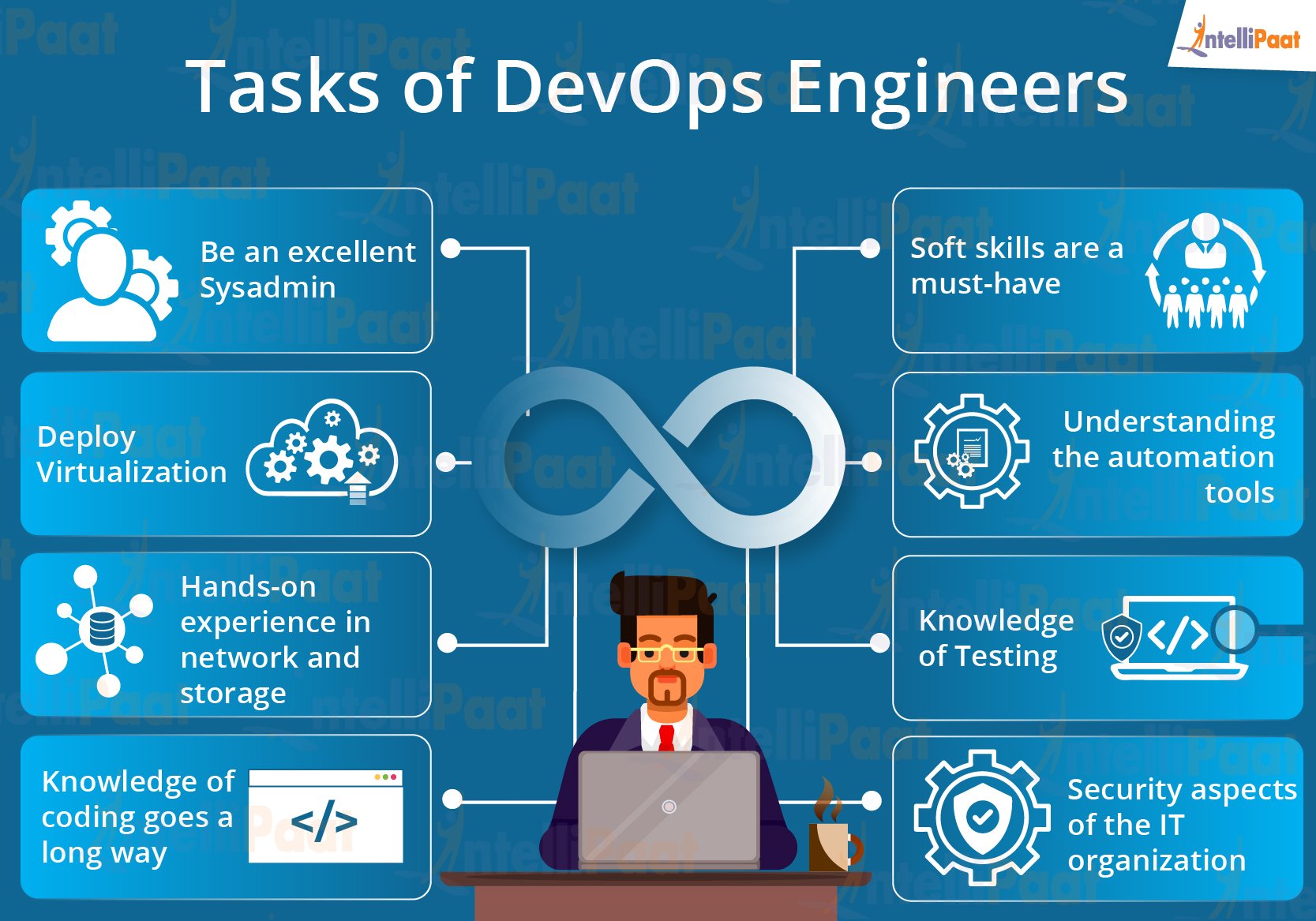 The RoadMap to become a Successful DevOps Engineer
Linux and OS Concepts – Linux operating system is highly used by the majority of companies for their applications. It's not important to have deep knowledge in Linux but basic knowledge of understanding will also work for better results. So you should know is:-
⦁ Basic Shell Commands
⦁ Linux File System
⦁ basics of how to administer a server
⦁ SSH Key Management
⦁ installing different tools on servers
Software configuration and deployment – Engineers need to automate the deployment process to increase the reliability, consistency, and number of accurate deliveries.
Puppet or Ansible is used to configure and deploy the applications in the production environment. The engineers should also be aware of closure management, and containerization (Docker and Kubernetes).
Infrastructure as Code – Infrastructure as code (IAC) is to manage the infrastructure of resources programmatically by writing code configuration files instead of managing each resource separately.
These resources might be set over the physical server, a Virtual machine, or cloud. An IAC defines the state of the machine and generates the same environment each time it is compiled.
In DevOps, automation should be as much as possible and this is where Infrastructure as Code comes into the picture. There are two types of IAC tools:-
⦁ Infrastructure provisioning
⦁ Configuration management
It is easy to replicate and recover the infrastructure with these two tools. So you should be aware of these tools to make your work efficient. IAC works as Automation, versioning, manual errors eliminated.
Continuous Integration/Continuous Delivery (CI/CD) Pipelines – CI/CD deals with the integration of code by the developers into the main branch of a common repository.
In DevOps, the code keeps changes according to the needs like bug fixes, adding new features, and deployed to end-user continuously and in an automated manner. So when adding features and bug fixes are done then a pipeline runs on CI (continuous integration) server. that should be triggered automatically, which is:-
⦁ Runs the tests
⦁ Packages the application
⦁ Builds the Docker Image
⦁ Pushes the Docker Image to an artifact repository and finally
⦁ Deploys the new version to a server (that could be a DEVELOPMENT, TESTING, or PRODUCTION server)
Jenkins is one of the most popular and Others like Bamboo, Gitlab, TeamCity, CircleCI, TravisCI are the tools which you should learn here.
Programming Knowledge – This is also an important skill of DevOps engineers to know programming language whether it's a job of debugging or integrating database changes.
As a DevOps engineer, you don't need to have deep knowledge about programming as it is the work of developers but you have to collaborate with them to improve and automate tasks, so you need to have basic knowledge, like:-
⦁ How developers work
⦁ which git workflow they are using
⦁ how applications are configured
⦁ Automated testing
Networking & Security – It's an essential part of DevOps. As a DevOps engineer, you also have to work on networking and security functions.
So you have to learn basic concepts like Ip addresses, DNS, routing, firewalls and ports, basic utilities like ping, ssh, netstat, NCR and IP, load balancing, and TLS encryption.
And also we need to understand the basic protocols ( standard rule for networking) like, TCP/IP (Transfer Control Protocol/Internet Protocol), HTTP (Hypertext Transfer Protocol), SSL, SSH (Secure Shell), FTP (File Transfer Protocol), DNS (Domain Name Server).
Ansible and Jenkins are the tools that can be used to configure and orchestrate network devices.
Cloud Providers and Services – virtual infrastructure on the cloud are being used by the company, these days instead of managing their infrastructure. These are Infrastructure as a Service (IaaS) platforms, that offer multiple services, like backup, security, load balancing, etc.
These services are platform-specific…Cloud computing is complete virtualization, where the computing resources are outsourced on the cloud and available for use on a pay-as-you-go basis (which means you pay only for what you using) over the internet.
AWS, Google Cloud, Microsoft Azure are some of the leading cloud providers to name a few provide varied cloud services like IaaS, PaaS, and SaaS.
Monitoring and Log Management – Once the software is deployed, it is important to monitor it to track its performance, figure out the bugs, and push an update to fix the issues. So this is one of your responsibilities as a DevOps engineer.
Continuous feedback is important to give reliable service to customers. So continuous monitoring plays an important role here. It is vital to monitor system events and get alerts in real-time. Some tools are used to monitor are Splunk, Nagios, etc.
Earlier the software update was given by pushing a downtime, due to which the performance of the software used to be decreased but with time it has been solved with new features. Now it is possible to push the update without giving a downtime.
Version Control – Version control is known by various names like source control, version history, and VCS (Version Control Systems).
Version control is any system or tool used to store and track changes to projects over a period. Git-hub is a popular version control tool and when concerned about open source projects.
GitHub keeps track of every change that has been made to a project with time and makes a note of when the changes were made, what type of changes were, and who made them.
Version control systems can also support the ability to make "branches" of the main project, to permit for changes to get tested without changing the original project.
Once these branches are tested well and verified, they can then be combined with the main project.
Scripting Language – As working with developers and system admins to automate development and operation tasks, you will also need to write scripts and small applications to automate tasks. So you need to know a scripting and programming language to be able to do that.
It might be an OS-specific scripting language such as bash or Powershell.
But an OS-independent language like Python, Ruby, or Go is in more demand. These languages are very powerful and flexible in terms. If you are aware of one of these, it can increase your value in the job market.
But an OS-independent language like python, Ruby, or Go is the most demanding in the market. These languages are very powerful and flexible.
Training Place
I would like to tell about one of the best place to get trained and certification in DevOps, DevSecOps, SRE course is DevOpsSchool. This Platform offers best trainers who have good experience in DevOps and also they provide friendly eco environment where you can learn comfortably and free to ask anything regarding to your course and they are always ready to help you out whenever you need, that's why they provide you so many ways to teach you like pdf's, video etc.
At last they provide real-time projects to increase your knowledge and to make you tackle the real face of the course. it will increase the value of yours as well as your resume. So do check this platform if you guys are looking for any kind of training in any particular course and tools.