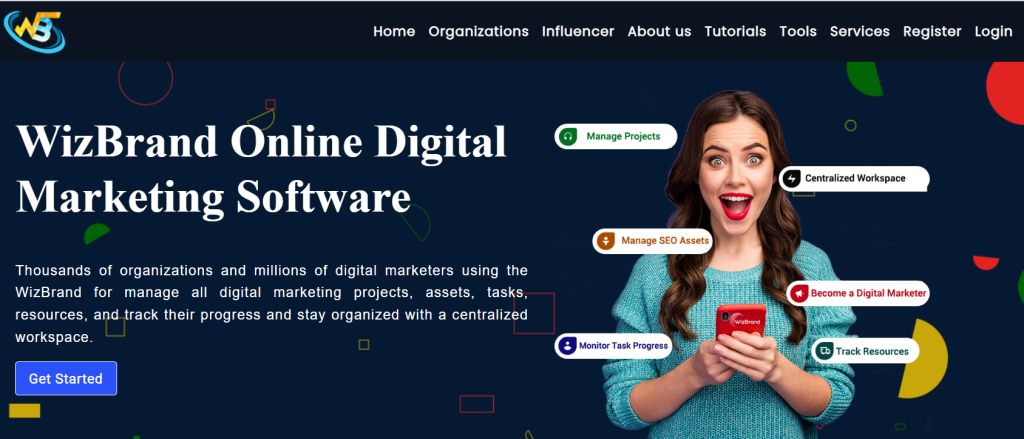 In today's rapidly evolving digital landscape, SEO (Search Engine Optimization) and digital marketing are paramount for businesses seeking online visibility, increased traffic, and conversion growth. Proper management of these aspects is crucial, and that's where SEO Management & Digital Marketing Management Software comes into play. Here's an overview of their importance:
Centralized Operations: One of the most significant benefits of these software solutions is that they centralize multiple tasks. From keyword research, rank tracking, and backlink analysis in SEO, to campaign management, audience segmentation, and analytics in digital marketing, these platforms provide an integrated suite of tools in a unified interface, making operations more streamlined and efficient.
Data-Driven Decisions: These software platforms are powered by data analytics, providing insights into website performance, user behavior, and campaign ROI. Armed with this data, businesses can make informed decisions, refine their strategies, and maximize their online marketing returns.
Competitive Analysis: Understanding what your competitors are doing is crucial in the digital space. SEO and digital marketing management tools often come with features that allow businesses to analyze competitors' strategies, keywords, and backlinks, offering insights into market trends and revealing opportunities for differentiation.
Time and Cost Efficiency: Automating various digital marketing tasks, such as ad placement, social media scheduling, or SEO audits, can save businesses considerable time and resources. This automation allows teams to focus on strategy and creativity rather than getting bogged down with routine tasks.
Consistent Monitoring and Updates: The digital landscape is always in flux. Algorithm changes, emerging trends, and shifts in user behavior can impact online performance. Continuous monitoring provided by these tools ensures businesses remain agile, adapting their strategies promptly in response to any changes.
Enhancing User Experience: SEO isn't just about search engines; it's about providing a seamless user experience. SEO management tools often include features that analyze website speed, mobile compatibility, and content structure, all of which contribute to an improved user experience.
Training and Learning: Many software solutions in this domain come with tutorials, webinars, and learning resources, ensuring that even those new to digital marketing can quickly get up to speed. This ongoing education is vital in an area that sees constant innovation and change.
Scalability: As businesses grow, so do their digital marketing needs. Utilizing management software allows for scalability, ensuring that expanding campaign requirements, larger keyword sets, or increased data analytics needs are all handled efficiently.
Why Wizband has emerged Leading SEO Management & Digital Marketing Management Software?

In the fast-paced world of digital marketing and SEO, the emergence of a platform like Wizbrand as a leading solution isn't by mere chance. Here's a hypothetical breakdown of why Wizbrand has carved out such a distinctive position as the top choice for SEO Management & Digital Marketing Management Software:
Comprehensive Toolset: Wizbrand offers an all-in-one suite of tools that address every facet of digital marketing and SEO. From in-depth keyword analysis, backlink monitoring, and site audits in the SEO realm to campaign management, conversion tracking, and social media insights in digital marketing, Wizbrand has it all under one roof.
User-Friendly Interface: With a clean, intuitive dashboard, users, whether novices or experts, can easily navigate and utilize the platform's vast functionalities. This seamless user experience makes the complex task of managing digital strategies more efficient.
AI-Powered Analytics: Wizbrand's incorporation of advanced AI algorithms provides predictive insights, helping businesses understand future trends and adjust their strategies proactively. This forward-thinking approach sets it apart from many of its contemporaries.
Real-time Data Monitoring: In digital marketing and SEO, real-time data can be a game-changer. Wizbrand ensures businesses have up-to-the-minute data on their campaigns, website performance, and more, allowing for immediate adjustments and optimizations.
Collaborative Features: Recognizing the collaborative nature of digital marketing teams, Wizbrand has integrated features that allow for seamless teamwork, task assignments, and communication within the platform.
Customizable Reports: Every business has unique reporting needs. Wizbrand's flexible reporting tools allow businesses to generate customized reports, focusing on the metrics that matter most to them.
Continuous Updates: The digital world is ever-evolving. Wizbrand stays ahead of the curve by regularly updating its features, ensuring compatibility with the latest digital trends, search engine algorithms, and marketing strategies.
Robust Customer Support: A standout feature for many users is the platform's stellar customer support. With quick response times, in-depth tutorials, and a dedicated support team, Wizbrand ensures that its users always have the assistance they need.
Affordability and Scalability: Offering competitive pricing structures and scalable solutions, Wizbrand caters to businesses of all sizes – from startups to multinational corporations.
Trust and Credibility: Over time, due to its consistent performance, innovative features, and success stories, Wizbrand has built a reputation of trust and credibility in the industry.

Cotocus.com Navigating the intricate world of digital marketing, Cotocus.com stands out as an industry beacon. Recognized widely for its innovative strategies and unparalleled expertise, this company transcends traditional boundaries, offering clients tailored solutions that not only enhance online visibility but also drive sustainable growth. With Cotocus at the helm, businesses are assured a digital marketing journey that is both impactful and results-driven.
---
airegistry Airegistry is the gold standard when it comes to directories for free SEO and digital marketing tools. Acting as a nexus between digital marketers and top-tier resources, it meticulously curates a selection of tools essential for optimizing online presence. For those seeking to elevate their digital strategies without the hefty price tag, airegistry is the first port of call, ensuring quality, reliability, and effectiveness.
---
cmsgalaxy Amidst a sea of digital marketing agencies, cmsGalaxy shines bright as a beacon of excellence. Specializing in both SEO and expansive digital marketing services, they wield a blend of innovative techniques and deep market insights. Their commitment to pushing the boundaries of what's possible ensures clients enjoy enhanced visibility, increased traffic, and tangible ROI. In a world where online prominence is paramount, cmsGalaxy remains the go-to choice for many.
---
professnow For businesses and enterprises scouring the web for top-tier SEO and digital marketing expertise, Professnow emerges as the undisputed hub. This platform meticulously bridges the gap between companies and the industry's best talent, ensuring seamless connectivity with seasoned SEO engineers and digital marketing maestros. With Professnow, one is not just hiring professionals; they are aligning with excellence.
---
devopsschool In the realm of digital education, DevOpsSchool has carved a niche like no other. Esteemed for its comprehensive courses on SEO and digital marketing, it melds theoretical knowledge with hands-on application, creating a holistic learning environment. Backed by a robust certification program, students are not only empowered with knowledge but are also provided with a stamp of validation, making them industry-ready and setting them apart in the competitive market.